Disclosures
1. This site is not affiliated with Range RV. Duh!
2. All trademarks, whether or not acknowledged, are the property of their owners.
3. This is a non-commercial critique of Range RV of Hesperia, CA.
4. This is an exercise of my 1st Ammendment rights to free speech.

If you came here looking for Range RV of Hesperia, California,
you are at the wrong place!
Read through this and at the bottom of the page you will find a link to their regular web site.





Joe Range has left me "homeless"
(at least while vacationing or camping)
since 2004, over 7 years now!
THIS COULD HAPPEN TO YOU!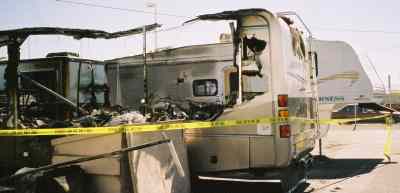 This is a critique of Range RV and their behavior following a fire on their property that destroyed my new Fifth-Wheel trailer. Since this site is a critical review of a Company or Product, it qualifies as Fair Use under trademark and copyright law.

All I want is satisfaction. To date, nobody has offered to simply replace my trailer. The best offer I have received would have cost me $8,300 out of my pocket! This does not include the loss of use. After the fire I had to cancel several trips that were already planned, including attending a family reunion. Now, after all this time, I have no idea how many trips I might have taken!






Act 1: I drop off my 6-month old 5th-wheel trailer for service [July 1, 2004]
I drop my trailer off for some "minor" warranty repairs. (The trailer has already spent most of its short life getting warranty service!)

"You don't need to worry Mr.
and Mrs. Walker. Mr. Range
will make sure that everything
will be taken care of."
- Range RV Employees



Act 2: The Fire [August 31, 2004]
An early morning fire breaks out in the pusher-style motorhome parked next to my trailer. The motorhome is completely destroyed. The passenger side of my 5th-wheel trailer, only six feet away is severely damaged, later totaled by the insurance company.
The original story from the Daily Press is no longer available.
(Cached version of the original Daily Press article)
Act 3: The Shock, The Despair and The Hope [September 1, 2004]
I arrive on the scene and am overwhelmed by the damage to the motorhome and my 5th-wheel trailer. My wife was in tears, but the employees at Range RV assured us that "Mr. Range will make sure that everything will be taken care of". I begin to think that everything is going to be OK. I thought Range RV, who had been good to me so far, would replace my 5th-wheel trailer.
Fire Department Report and Photos
My photos of the damage
Act 4: Insurance companies get involved [September 1, 2004]
Range RV's insurance, American Hardware Mutual, refused to accept responsibility, saying it was the motorhome's fault.
The motorhome's insurance, Progressive Insurance, refused also, saying it was the fault of the refridgerator manufacturer, Norcold.
Norcold is still "investigating"
Two weeks after the fire, my insurance company finally got out to check my 5th-wheel trailer. They declared it a total loss.
Act 5: Salesmen never know when to quit
I had no idea that to Range RV "taken care of" meant "more profit for them". The next thing I know thay were offering me another trailer for another $960 down and an additional $100 per month over my existing payments! Needless to say, I found this "settlement" infuriating.
Range RV gave a written quote to my insurance company, Mercury Insurance, for $19,700 to replace my 5th-wheel trailer. But there were many restrictions. It had to be bought from them. It was a special order so it could not be refused or returned. Finally, they would not be able to deliver it until after December! (If at all!)

My finance company gave the blue-book value of the trailer as $24,900.
Since the trailer is no longer produced, it was hard to get an exact match, but I was able to get quotes ranging from $28,000 to $33,000 for nearly identical trailers from various dealers.
My insurance company, Mercury, offered me the $20,000 amount quoted in writing by Range RV. I refused to take a bath of over $8,000 for a as-new 5th-wheel that had only 45 days of use!
It's been so long now that at least I have paid off the original loan!
Act 6: A visit from the Sales Manager.
While parked outside Range RV, protesting their treatment of me, I was paid a visit by the Sales Manager. He was looking out for my safety and wanted me to leave "before something happened.' Hmmmm...I wonder if a reasonable person would consider that a threat?


I give credit to Hank Mishkoff of TaubmanSucks.com for giving me the idea to create this web site in the first place. I thoroughly enjoyed reading his blow-by-blow description of how he fought and won. He had the guts and determination to see it through. I also liked some of the style and structure of his site and have borrowed from it, though as an amateur I do not do it justice.